Acknowledging and appreciating the individuality of each wedding I document keeps me moved and inspired, year after year, 300-some-odd unions into my photography adventures.
A courthouse wedding sounds straightforward enough, and aside from the faces, what could be so different between every unpersonalized 2-minute scripted ceremony in front of a legal magistrate? However the only sameness I've truly experienced is that I have to run my cameras through x-ray screening. Here's what stood out to me this time:
I met up with Jaya and Soumya at the St. Louis County Courthouse in Clayton expecting to document a private affair between the pair and a judge, just as I always have witnessed civil ceremonies. But the elevator opened to a 3rd floor packed with couples waiting to be wed, uncalled numbers in hand, and an overwhelmed clerk summoning 5 at a time to enter the courtroom where they'd sit with a dozen others until their 120 seconds with the judge; a revolving door of marriages.
The hall was loud, chaotic, diverse, and almost potentially unromantic- I mean, sharing these intimate moments with strangers in cold, assembly-line take-a-number fashion? Some were accompanied by their entire families, some pregnant, some with unwrangled toddlers, some looked indifferent or impatient, and then- Jaya and Soumya, completely and quietly alone. Not lonely alone- intimately alone. In their own world within the world. Present to each other. Tranquil. Accepting of the chaos. Eager for their moment.
I deeply admire these two for how they made this entire experience authentically their own- exchanging joyful smiles, soulful laughs, reverent tears, and then, it seemed, the only people in the building when they shared promises and one of the most impactful kisses I've seen. It's inspiring to my own life and how I live my own moments.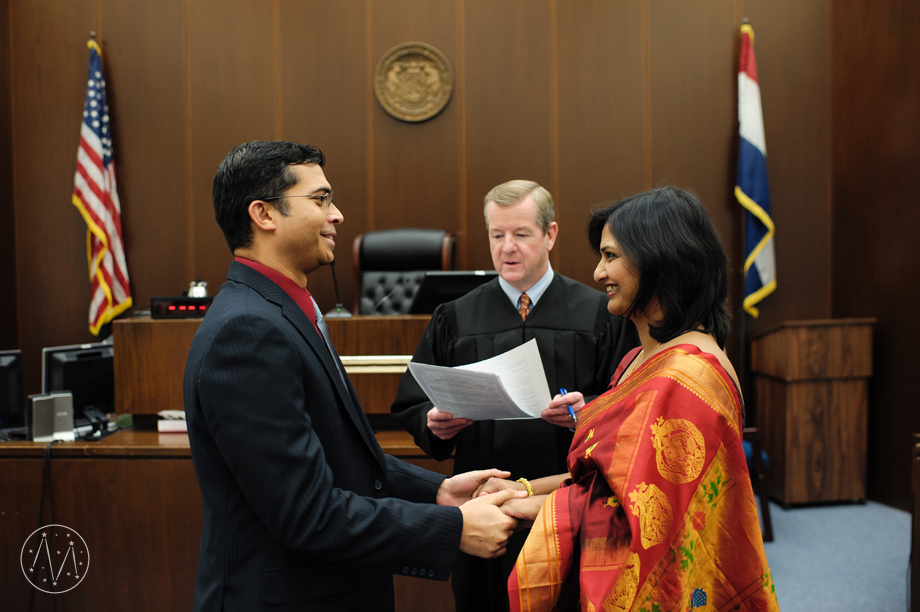 While they didn't exchange rings formally during their ceremony, Soumya took a still moment while the license was signed to give Jaya a personally significant ring.